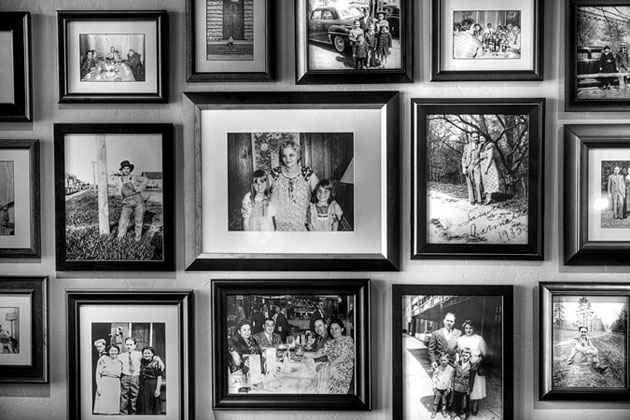 The Carmella's Story
Throughout our lives, we have been passionate about food, wine, being with family and making others happy. We inherited these loves from both my mother and father, who in turn, learned the same from their parents. We are proud and honored to be able to share these passions with our guests here at "carmella's, an italian bistro".
Carmella, our grandmother, was an amazing woman who has proven to be an inspiration to both of us in many, many ways. For most of our early lives, we were lucky enough to live in an apartment building in Dobbs Ferry, NY that also housed our grandmother in an adjacent apartment and our family's Italian restaurant downstairs. As youngsters, we remember our grandmother always in the kitchen, either in her apartment or at the restaurant, cooking up something that smelled too good to be true. It is from her that we learned what hard work and dedication could bring. She was strong and passionate and loved nothing more than feeding her sizable family more that we could ever possibly eat.
The dishes made so that the true flavors of the ingredients shine through. We take the utmost care in selecting only the freshest and highest quality ingredients available to us, often using locally grown and made products to help support the businesses in our community. Our meats are sourced from family and locally owned Haen Meats, much of our dairy is from Lamers Dairy, our pasta is made fresh by RP's Pasta in Madison and our gelato and sorbet are made in the traditional Italian style – all natural and no preservatives – by Palazzolos in Michigan. As well, many of our Italian cheeses are made by artisan cheese-makers right here in Wisconsin!
In addition to our wonderful menu, which we serve all day in the traditional bistro style, we offer an extensive selection of high quality wine and beer. Our wine list consists mostly of Italian wines, many of which are made by small, family owned wineries all over Italy, along with carefully selected wines from around the world.
The majority of our beers are made by small craft breweries throughout the US, as well as quality imported brews. We believe strongly in the idea that wine, beer and food are meant to be shared together and our staff will gladly help guide you in a selection that will compliment your meal. Our atmosphere is warm, inviting and energetic. Our dining room is full of the sounds of happy guests enjoying their time together and reminds us very much of Carmella's dining room, where much of the same could always be heard.
Our family is extremely proud to be able to share a part of ourselves with all of our guests at "carmella's, an italian bistro". Our ancestors had a dream when they came to this country from a small town in Italy called Ariano Irpino, in the Campania region. We are so thrilled to be carrying on that dream here and know that our grandmother is as proud and happy as we are to be doing so. Please join us to experience all that "carmella's, an italian bistro" has to offer. We thank you for the support and hope to see you soon!
Graciously,
Nicole, Kristen, Larry & Nola DeFranza